Beskrivelse
MUSICBOOK SOURCE II
A fully equipped signal source which sets a new sound benchmark?
Here you are: the Musicbook SOURCE II is a versatile signal source that meets even the highest demands on sound quality. Be it music from streaming services or from a music server, from CDs or LPs, everything's possible and easy to operate via the app. Friends of high-class headphones will also get their money's worth: the integrated headphone amplifier defines new standards in this class. The icing on the cake is the excellent phono MM input for turntables!
Connect your Musicbook SOURCE to a suitable power amplifier such as the Musicbook POWER or directly to active loudspeakers, and from now on you'll be enjoying music in the most beautiful way: rich in detail and yet relaxed, with a wide stage or a small ensemble, dynamically vigorous or soft and emotional.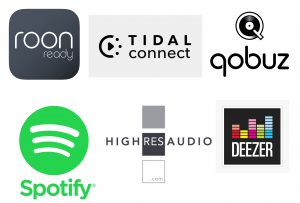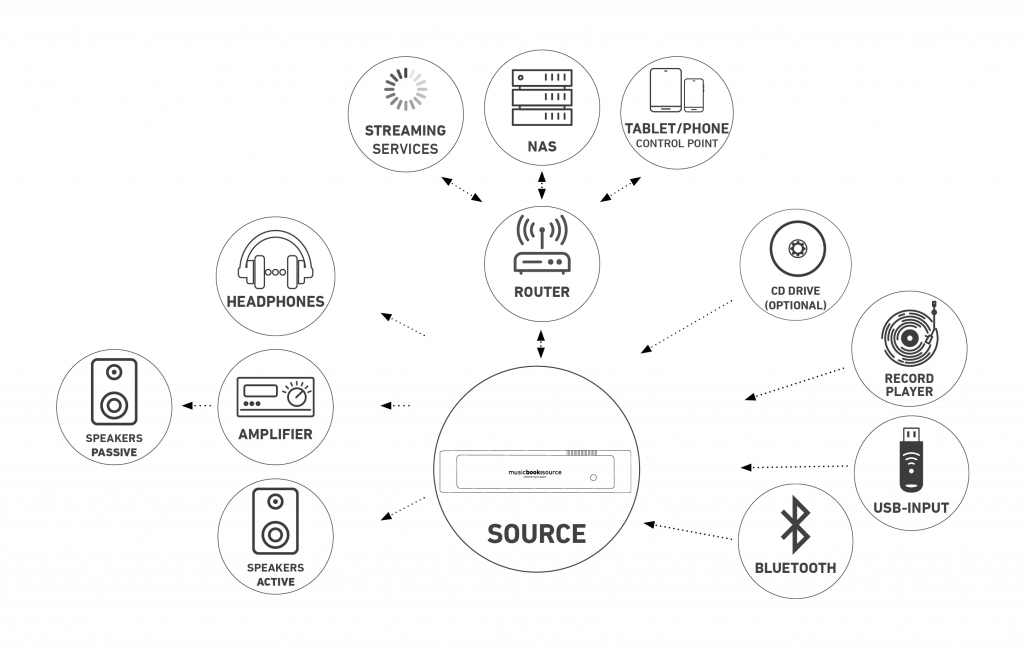 The Musicbook SOURCE II has been systematically refined – with a focus on the analog preamp. The headphone output now sounds even better and can also drive 16-ohm headphones. Still more effort was put into the ongoing development of the firmware where initial bugfixes and corrections have ultimately become a completely new stack. Among the most important novelties we see the implementation of Spotify Connect and TIDAL Connect. Moreover, there are small and big new features, e.g. the elimination of the lipsync problem when connecting a TV set, network standby, fixed line output with bypassing the analog volume control, dB-linear 80-step volume control, sample rate display for the digital inputs, selection of Spotify via the remote without using the app and much more. With 1-bit re-sampling, the excellent sounding AKM converter modules and the upgraded preamp the new Musicbook SOURCE II again raises the bar soundwise for the best streaming DACs. By the way: despite worldwide supply bottlenecks, we will continue to rely on the probably best sounding converter modules from AKM and the already legendary 1-bit re-sampling process for the SOURCE II!
Measurement conditions: 22 °C, 230 V mains voltage, Audio Precision AP2722
Mains connection: 90 – 240 V, 50 – 60 Hz
Power consumption: 0.2 W stand-by, 8 W operation, 18 W max.
Dimensions (W x H x D): 280 x 220 x 63 mm (11 x 8.7 x 2.5 in.)
Weight: 2.6 kg (5.73 lbs)
D/A converter
Resolution: 768 kHz/32 bit and DSD 512
Dynamic range: >125 dB
THD & Noise: <0.001 % (@ 0 dB FS)
Master-Clock: Ultra low jitter MEMS Femto Clock
Re-Sampling: with 180 dB dynamics and 32 bit resolution, bit-perfect or DSD
Re-sampling jitter damping: >60 dB
Converter architecture: two AK4493 DACs in dual differential mono mode, AK4137 re-sampler
Output voltage: 3 V @ 0 dBFS RCA, 6 V @ 0 dBFS XLR
Network player
Ethernet: 100 Mbit/s
WLAN: Dual-band 802.11a/b/g/n/ac, WPS support
Bluetooth: 4.2, A2DP
USB: High-speed host interface for harddisks, USB sticks, DVD ROM drives, max. output current 1.5 A
Supported codecs: WAV, FLAC, AIFF, ALAC, MP3, AAC,
Ogg Vorbis, WMA, DSD
UPnP and DLNA support
PCM resolution: 44.1 kHz up to 384 kHz, 24bit (WLAN up to 192 kHz)
DSD resolution: DSD 64 up to DSD 256 (WLAN up to DSD 128)
Gapless playback
Streaming services: TIDAL, Qobuz, Deezer, HighResAudio, Spotify
Internet radio and podcast
Roon Ready
Analog preamp
Inputs: two analog line inputs with 50 kOhms of input impedance.
Max. input voltage 3 V unbalanced. MM input for connecting a turntable. Connection values MM: 47 kOhms / 150 pF.
Outputs: one balanced and one unbalanced output. The outputs may be used independently. Output impedance: RCA: 100 ohms, XLR: 100 Ohms. Max. output voltage: 3 V unbalanced, 6 V balanced
Volume level control range: 0 to 80 dB in 1 dB steps
Balance control: + / – 6 dB in 1 dB steps
Frequency response: 2 – 200 kHz (-3 dB)
THD & Noise: < 0.001 % @ 3 V output
Headphone amplifier
Headphone connector: 6.35 mm (1/4") jack socket
Headphone gain: 0 dB / 12 dB switchable
Recommended headphone impedance: 16 – 200 ohms
Damping factor of headphone output: >100