Beskrivelse
WHY LUMIN T3

LUMIN T3 combines our new-for-2022 processing system, solid CNC-panel construction and X1 technology to deliver maximum price/performance.

Main features

Features our all-new processing system
Increased capacity for future updates
Faster processor provides greater resampling flexibility
New surface finish taken from the high-end P1
Dual ES9028Pro SABRE DAC featuring dual-mono operation
Upsampling and downsampling to every supported format up to DSD256/PCM384
USB digital audio output
Leedh Processing Volume control
Roon Ready, Spotify Connect, MQA, TIDAL, TIDAL Connect, Qobuz, TuneIn and AirPlay-compatible

All-new processing system

Completely new hardware and software provide a new foundation for LUMIN
Increased processing power and storage capacity provide greater resampling flexibility and future-proofing.

Precision analogue output stage

Analogue buffer includes LUMIN X1 technology
Dual-mono circuitry throughout
Ultra-low-noise and high dynamic range

CNC chassis construction

The thick CNC panelled construction offers upgraded structural rigidity and sheilding compared to the D2
CNC milling techniques from LUMIN X1 provide the high-end LUMIN family aesthetic

Builds on the massive success of LUMIN T2

Completely new processing hardware and software deliver improved features and increased resampling flexibility while retaining all the musicality that was noted in so many outstanding T2 reviews.

Among the key hardware features carried over from T2 are the Dual ES9028Pro SABRE DACs featuring dual-mono operation.

The new model is also finished in a new silky surfacing process taken from our high-end P1 that is less susceptible to finger marks and easier to clean.

All the usual LUMIN refinements

From MQA to DSD, FLAC to WAV, LUMIN can play all the high-resolution formats you could ever want
Native support for TIDAL, Qobuz, Spotify and AirPlay-compatible, giving you access to tens of millions of songs
The unique and intuitive LUMIN App described as «the most convenient interface in existence» by TINMAN
LUMIN programme of continuous development that has seen Roon, MQA, and Spotify support added in 2017 alone.
Stereonet Australia & New Zealand have published their LUMIN T2 review.During the extremely positive review, Mark Gusew states:
This streamer's fundamental rightness means that it doesn't favour one genre of music over another.
Indeed, it's so insightful that even when compared to a more expensive reference of mine… costing an additional $4,000 – the T2 more than held its own.
One of the best sounding streamers at its price then and is also easy to use, stable in operation and superbly built…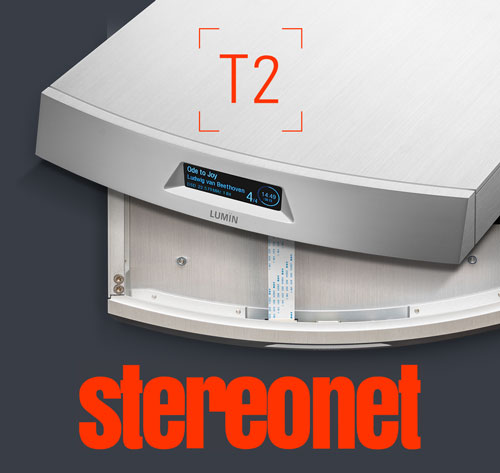 SOUNDSTAGE! NETWORK
October 2019
SoundStage! Network have published their review of LUMIN T2.During the glowing review, Gordon Brockhouse states:
More than any other digital source component I've had in my system, the Lumin T2 got out of the way and delivered the music.
What was especially impressive was how it reconciled what might seem aural opposites: clarity and warmth, delicacy and strength, speed and color.
Given the rapid changes occurring in digital audio playback, it's risky to characterize any digital source as a potential endgame purchase. But that's how I feel about the Lumin T2. I think it will be a long, long time before anyone buying a T2 experiences upgrade fever.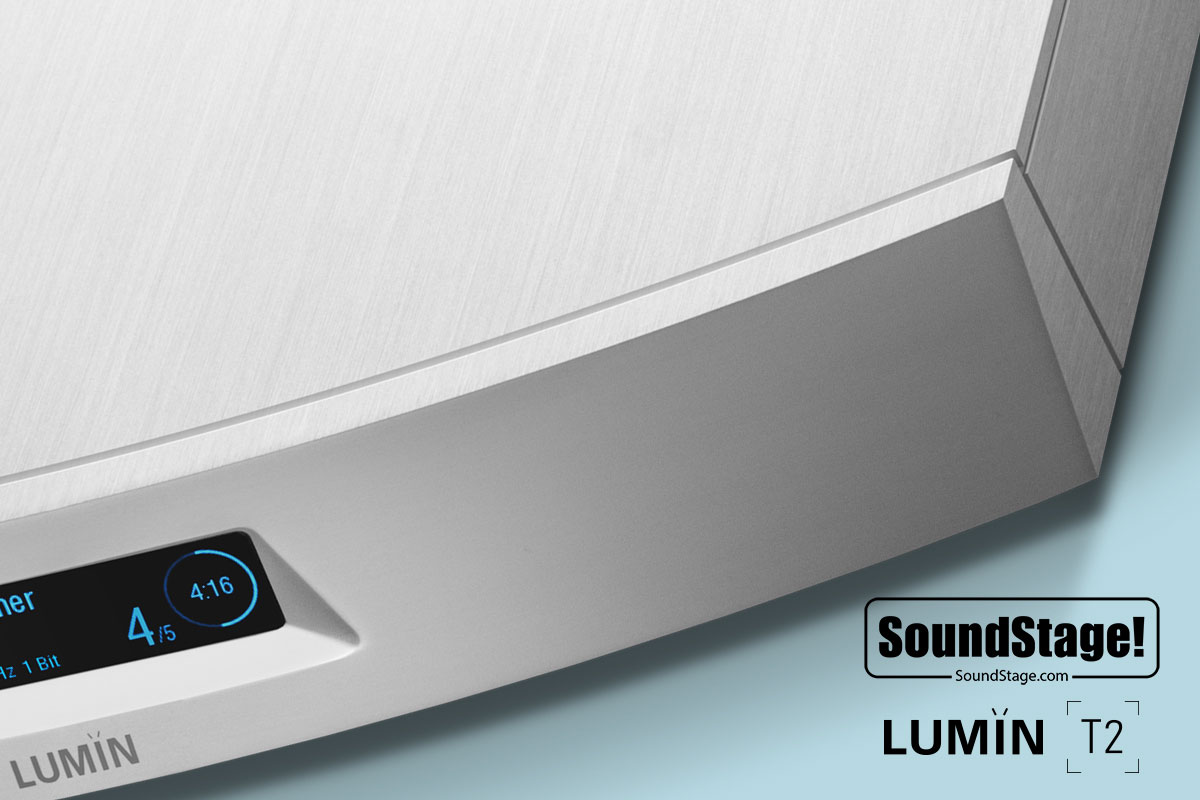 MONO & STEREO MAGAZINE
September 2019
Best Buy Award for LUMIN T2During the extremely positive review Matej Isak states:
T2 comes highly close to the X1 fast-paced nature, transparency and dynamic quality and that's quite an achievement for it's given price. T2 follows closely the LUMIN's sonic nucleus, translating into the unaltered and highly involving music reproduction across all of the music material. It was great to discover how albeit T2's open and transparent nature it was no stranger to the organic life-like warmness when needed.
LUMIN T2 streaming music player deserves the spotlight for what it represents. I'm happy to grant it the Mono and Stereo 2019 Best Buy Award!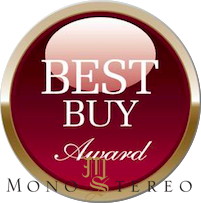 Das lite-Magazin have published their review of LUMIN T2, awarding it 97 out of a possible 100.During the review Volker Frech states:
with Lumin T2 this well-known song suddenly sounds pretty new! The drums, and especially the snare, we have never seen with such a clearly audible reverb!
Our ears can explore the geometric proportions of the recording room and its depth – and with closed eyes we have the fantastic illusion of being part of this concert in the studio.
What transparency and resolution!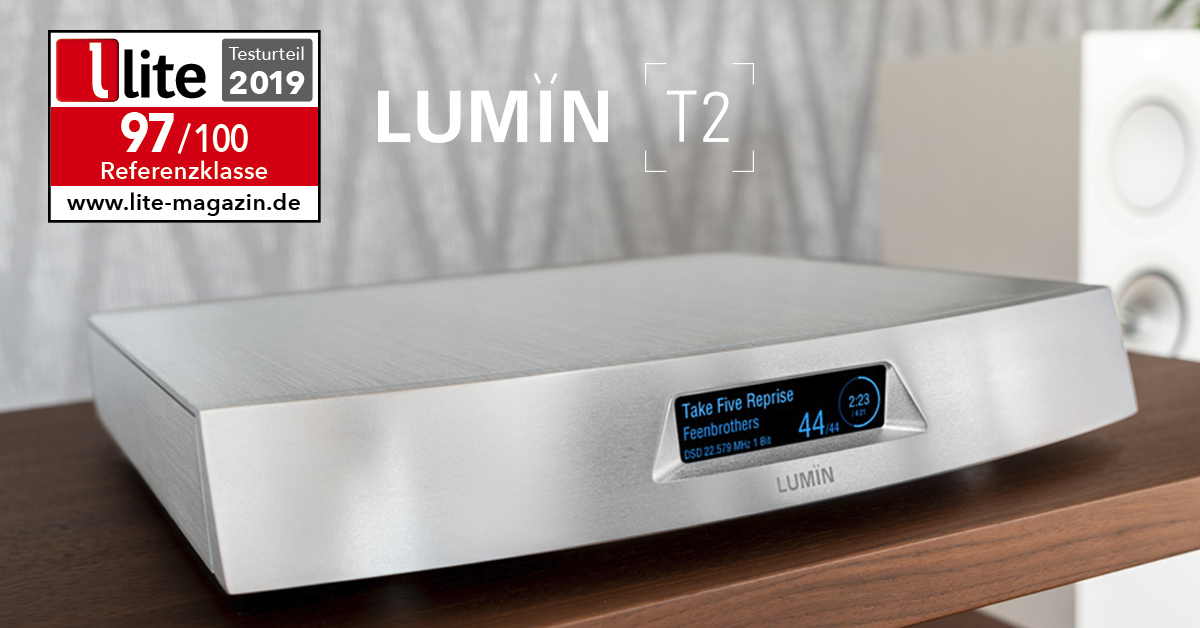 STEREOPLAY MAGAZINE
March 2019
German magazine Stereoplay have published their review of LUMIN T2, awarding it an overall score of 92%During the review Reinhard Paprotka states:
a noble streamer for very high sound demands
Extremely high signal-to-noise ratio
Price-performance is very good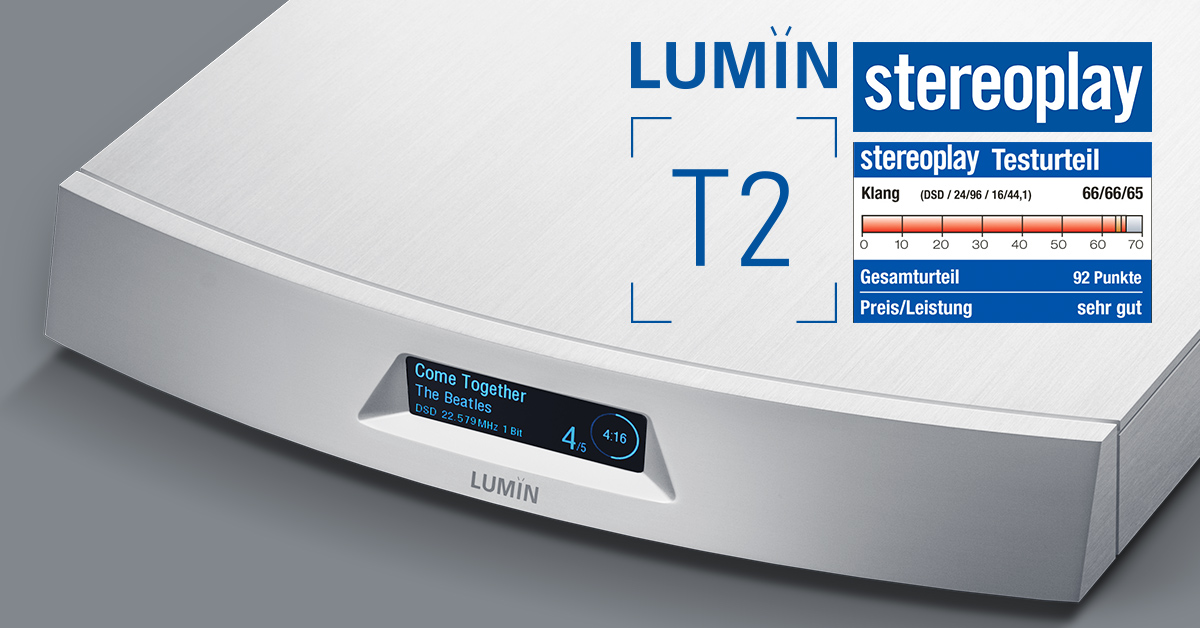 Award for LUMIN T2!High Fidelity Magazine have published their typically thorough LUMIN T2 review and presented it with their Red Fingerprint Award!In the review, Wojciech Pacuła states:
I really did not expect such a bass from the file player! Not only so low, strong and dynamic, but still pretty and energetic.
Completely unlike classical «file-based» sound. This is a big step forward compared to the T1 version, which I have been using for several years – it is a real sensation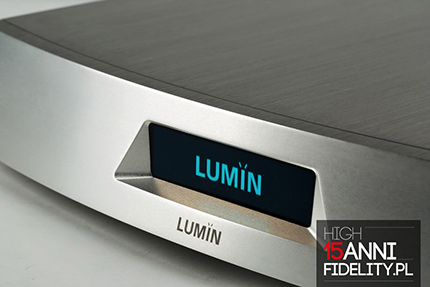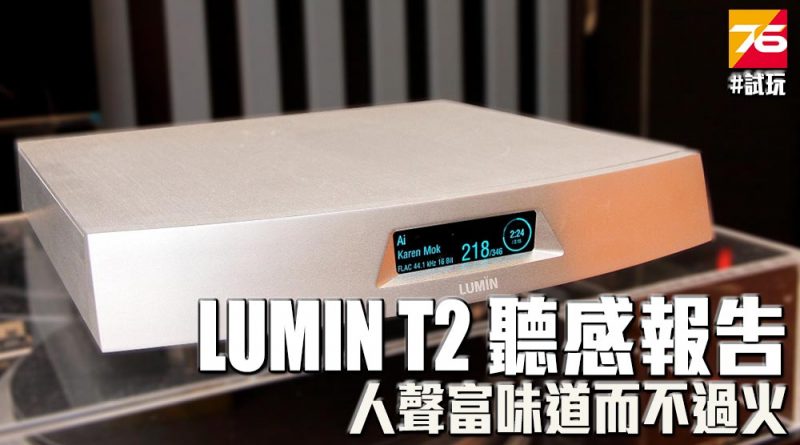 DSD SUPPORT:

Up to DSD512 22.6MHz, 1-bit

PCM SUPPORT:

Up to 384kHz, 16–32-bit, Stereo

ANALOG OUTPUT STAGE:

Dual ESS SABRE32 ES9028Pro DAC chips
Fully balanced layout with high-quality components
Completely redesigned analogue buffer includes audiograde output capacitor and ultra-low-noise and high dynamic range
Discreet clock system for precision timing
Precision 32-bit internal digital volume

UPSAMPLING RATES & BIT DEPTHS:

DSD256 upsampling option for all files
PCM 384kHz upsampling option for all files

DIGITAL OUTPUT STAGE:

USB:

Native DSD512 support
PCM 44.1–384kHz, 16–32-bit, Stereo

BNC SPDIF:

PCM 44.1kHz–192kHz, 16–24-bit
DSD (DoP, DSD over PCM) 2.8MHz, 1-bit

POWER SUPPLY:

Internal 100–240V AC auto-ranging
Low-noise
Shielded power supply compartment for reduced interference with delicate electronics

PHYSICAL:

FINISH:

Black anodised aluminium
Raw anodised aluminium

DIMENSIONS

350mm (W), 350mm (D), 60.5mm (H), 6kg