Beskrivelse
INTRODUCING SILVER PULSE
Silver Pulse is the latest design from DH Labs. It is a Cryogenically Treated, hybrid cable which offers the bass power and midrange body of Continuous Crystal Copper, and the pristine upper registers of high-purity Silver. Made in USA.
DESIGN
The design starts with a solid core conductor made of 99.99% (4N) Pure OFHCC copper, and a tightened grain structure (cryo -treated).  The core is then surrounded with a surface-polished, thick layer of 99.999% (5N) purity grade silver.  The exact ratios are proprietary, but the silver sheath is thicker and better bonded than most designs.  This hybrid conductor is then covered with a non-porous PTFE (Teflon) insulator, which is known for extremely low capacitance.  Finally, these conductors are twisted together at a very specific rate to reject electromagnetic interference.
LEAVE IT NAKED
No Shield.  Extremely low capacitance and interference rejecting geometries allow us to do away with the shield.  Eliminating the shield noticeably opens up the sound.  Physics buffs understand that a signal traversing a conductor carries a portion of its energy in the field surrounding that conductor.  The use of a shield is like a brick wall around this field, limiting its ability to expand and contract with the AC waveform.  Some cables are so focused at rejecting rare interference that they often interfere with the signal themselves.  In situations where shielding isn't essential, you will get a better result with an unshielded cable.
ASSEMBLY
Each pair of conductors is cut from successive lengths off the spool.  While most spools of wire are relatively consistent, there are always minor variations from the beginning to the end of a roll. This variance does not result in a balance change, but it can flatten soundstage.  Silver Pulse  is hand assembled in small quantities to ensure that each pair is closely matched.  Finally, meticulous silver-solder welds are put in place by our skilled assemblers during termination.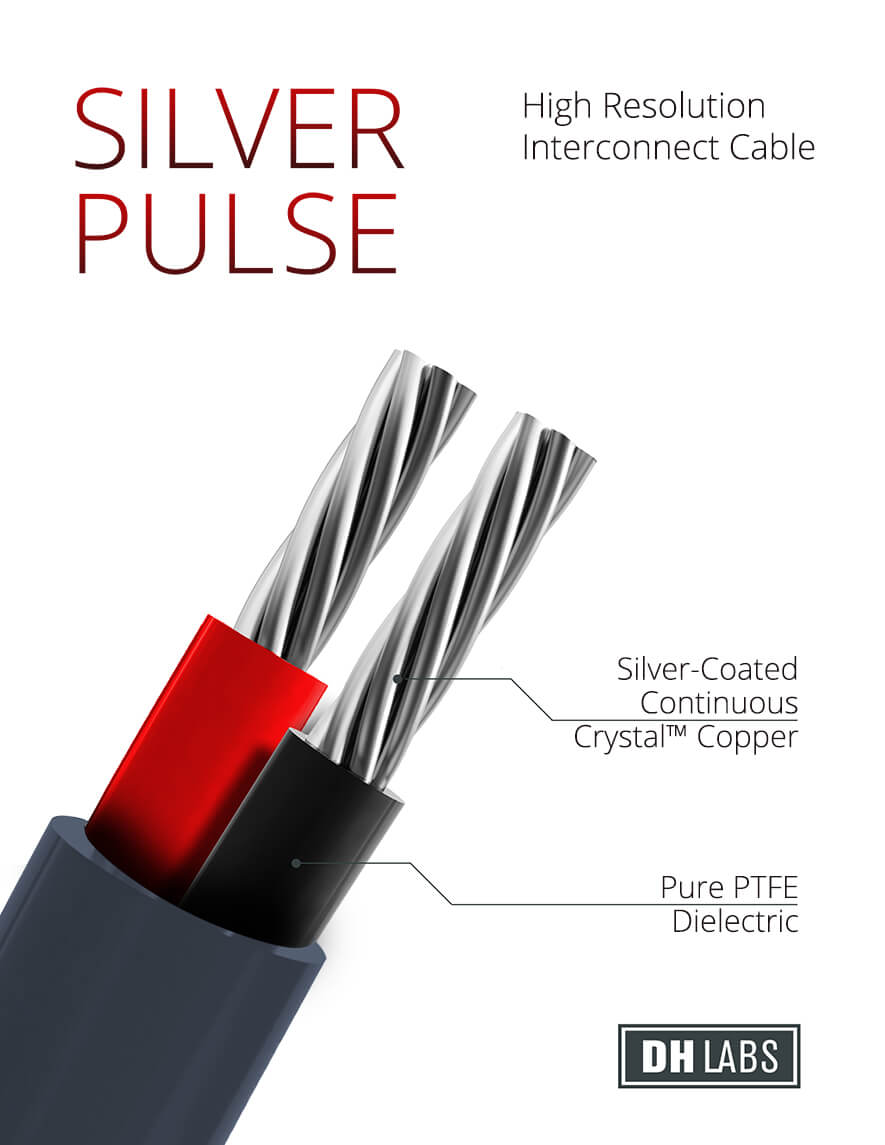 WHAT ARE THE SONIC CHARACTERISTICS OF SILVER PULSE ?
The Silver Pulse was designed with neutrality as the ultimate goal.  The result is a musical sound that is clean, open, and relaxed. The highs are neither bright nor soft, but have a clear and lively presence that is perfectly proportioned to the rest of the music.  This midrange provides natural timbres, and the bass has resounding definition and extraordinary energy.
SPECIFICATIONS
| | |
| --- | --- |
| Color | Black gray and blue braid |
| Capacitance | 12 pf/ft |
| Conductors | 20 awg OFHCC Silver Coated Copper |
| Connectors | DH Labs RCA-2C |