Beskrivelse
Following in the footsteps of one of our most popular models, LUMIN U2 Mini introduces our all-new processing system, delivering greater flexibility and future-proofing.
Capable of upsampling and downsampling all the way from 44.1kHz to 384kHz/DSD256 and supporting playback of DSD512, LUMIN U2 MINI is the perfect streaming partner for your DAC.
STREAMING PROTOCOL:
UPnP AV protocol with audio streaming extension (OpenHome)
Roon Ready
Spotify Connect
Apple AirPlay
Gapless Playback
On-Device Playlist
APP FEATURES:
Native support for TIDAL, MQA, Qobuz and TuneIn Radio.
Spotify Connect
Tidal Connect
Tidal MQA icons to identify high-res music
Qobuz high-res icons to identify high-res music
Volume control
High-resolution artwork
Artwork caching
Search
Multiple tag handling
Composer tag support
Album-grouping in playlist
Automatic internet links to artists/album/songs
Saving and restoring of playlists (including Tidal and Quobuz)
SUPPORTED AUDIO FILE FORMATS:
DSD Lossless: DSF (DSD), DIFF (DSD), DoP (DSD)
PCM Lossless: FLAC, Apple Lossless (ALAC), WAV, AIFF
Compressed (lossy) Audio: MP3, AAC (in M4A container)
MQA
INPUT:
Ethernet RJ45 network 100Base-T (1000Base-T Gigabit on X1 / U1 / U2 MINI / D2 / M1)
USB storage, flash drive, USB hard disk (Single-partition FAT32, NTFS and EXT2/3 only)
SUPPORTED CONTROL DEVICES:
All models of Apple iPad (v2 or later). iOS 8.0 or later required. Full Retina Display support.
Android devices. Android 4.0 (Ice Cream Sandwich) or later required
OTHER:
Programme of Continuous Development – Firmware-upgradable for further features and enhancements
DSD SUPPORT:
Up to DSD512 11.2MHz, 1-bit
PCM SUPPORT:
Up to 384kHz, 16–32-bit, Stereo
DIGITAL OUTPUT STAGE:
USB:

DSD512, 11.2MHz, 1-bit, Stereo
PCM 44.1–384kHz, 16–24-bit, Stereo
OPTICAL, COAXIAL RCA, COAXIAL BNC & AES/EBU:
DSD (DoP, DSD over PCM) 2.8MHz, 1-bit
PCM 44.1kHz–192kHz, 16–24-bit
POWER SUPPLY:
Internal shielded 100–240V AC auto-ranging
PHYSICAL:
FINISH:
Raw brushed aluminium or black anodised brushed aluminium
U2 Mini UNIT:
300mm (W), 244mm (D), 60mm (H), 2.5kg
PACKAGING:
470mm (W), 340mm (D), 170mm (H), 4.5kg
WHAT HI-FI?
February 2021

What Hi-Fi? have published the Australian Hi-Fi review of LUMIN U1 online.During the review they state:
The Lumin App is fantastically intuitive and easy to use.
You won't fail to be impressed by the sound quality from the Lumin U1 Mini.But the bass… oh the bass!  The Lumin U1 Mini reproduced the very deepest organ notes pitch-perfectly and with true authority.

Superb execution. Flawless sound. Fantastic app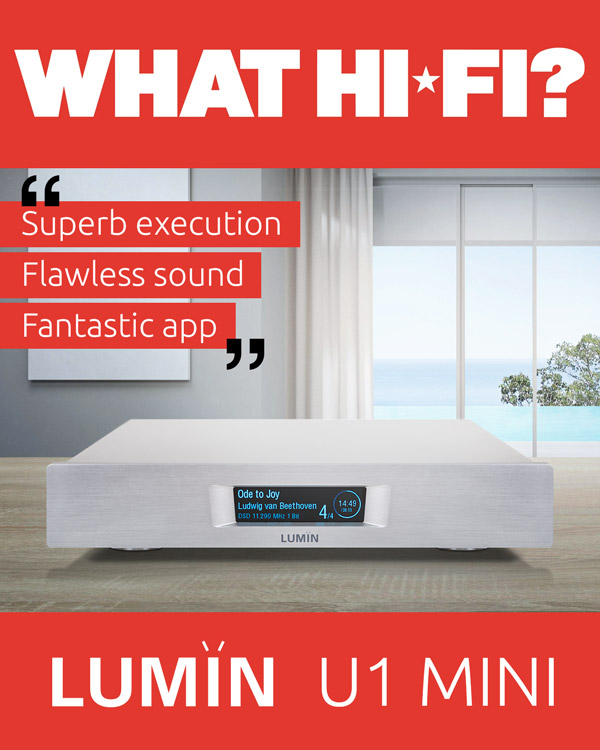 Network Product of the Year
Four of the largest online German-speaking publications (areadvd.de, av-magazin.de, lite-magazin.de and modernhifi.de) have again chosen their smart technology products of the year in 2020.
The Judges' Comment states:
If your hi-fi system still has some catching up to do in the digital sector and simple streaming is not enough to meet your requirements, Lumin provides exactly the right solution with the high-quality U1 Mini. Visually, the streaming transport is beyond any doubt and impresses with its elegant design and high material quality. The variety of connections means there is plenty of choice and, thanks to the compact dimensions of the U1 Mini, it can be combined with any type of hi-fi system. In addition, the streamer is compatible with a wide variety of file formats and of course has a heart for HiRes files.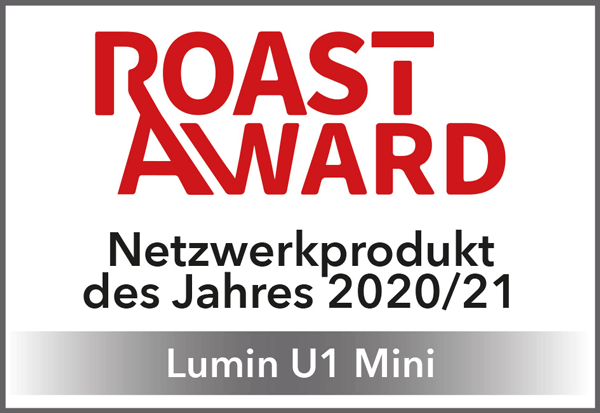 2021 SOUND & IMAGE AWARDS
November 2020
Network Music Player of the Year
In the 2021 Sound & Image Awards, Sound+Image, Australian Hi-Fi, Best Buys Audio & AV, and Audio Esoterica magazines have combined to award LUMIN U1 their top prize.
The Judges' Comment states:
This digital renderer of streaming music is about a third of the price of the non-'Mini' version, yet the performance is still magical.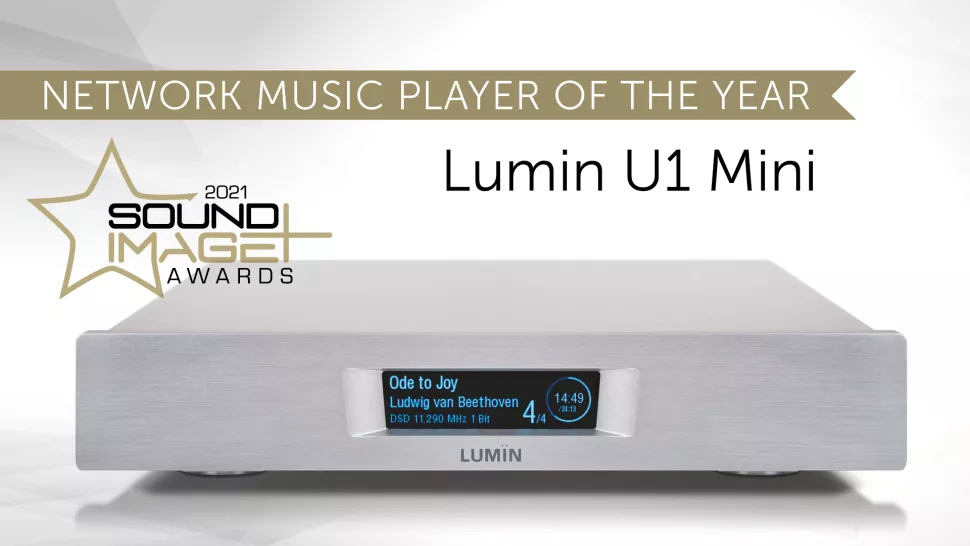 AUSTRALIAN HI-FI MAGAZINE
October 2020
Australian Hi-Fi Magazine have reviewed LUMIN U1 MINI.During the review Kenneth Zhang states:
The Lumin App is fantastically intuitive and easy to use
You won't fail to be impressed by the sound quality from the Lumin U1 Mini.
Superb execution. Flawless sound. Fantastic app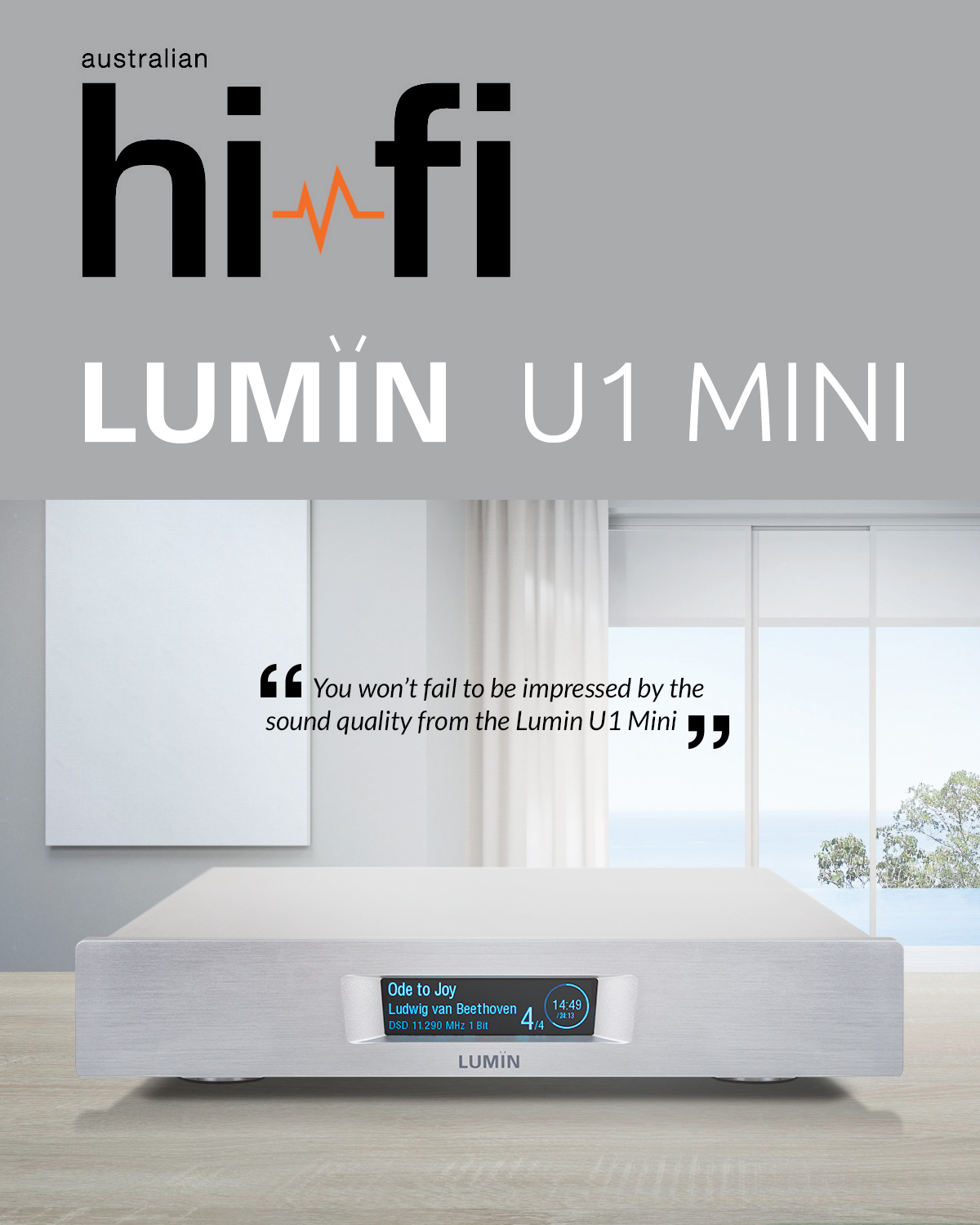 HIFIlive Magazine have published their review of LUMIN U1 MINI presenting it with their 'Best Value' award.They also try it with an aftermarket power supply.During the review José Manuel Delgado states:
A new reference to my system.
Without doubt a winning horse.
I doubt that there are better network transports. Highly recommended.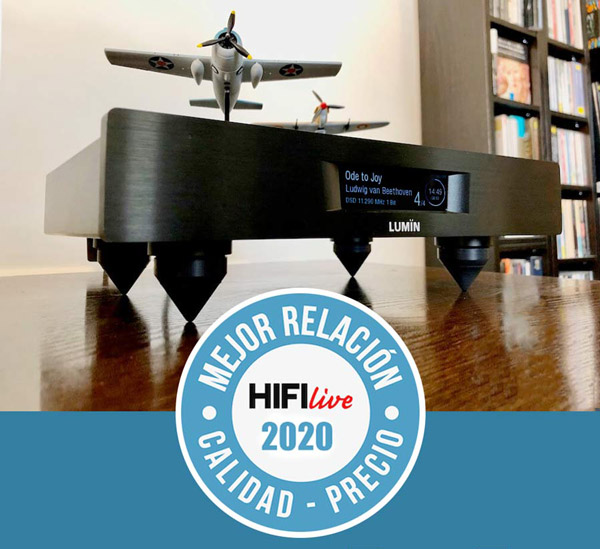 97% for LUMIN U1 MiniLite Magazine have published their hugely positive review of LUMIN U1 Mini and have awarded it a score of 97%.During the review magazine editor Martin Sowa states:
Here the beat goes straight into the blood and the singing under the skin. Lumin provides unimaginable detail.
Music can sound so lively when experts are at work!
The perfect partner for almost every digital-to-analog converter.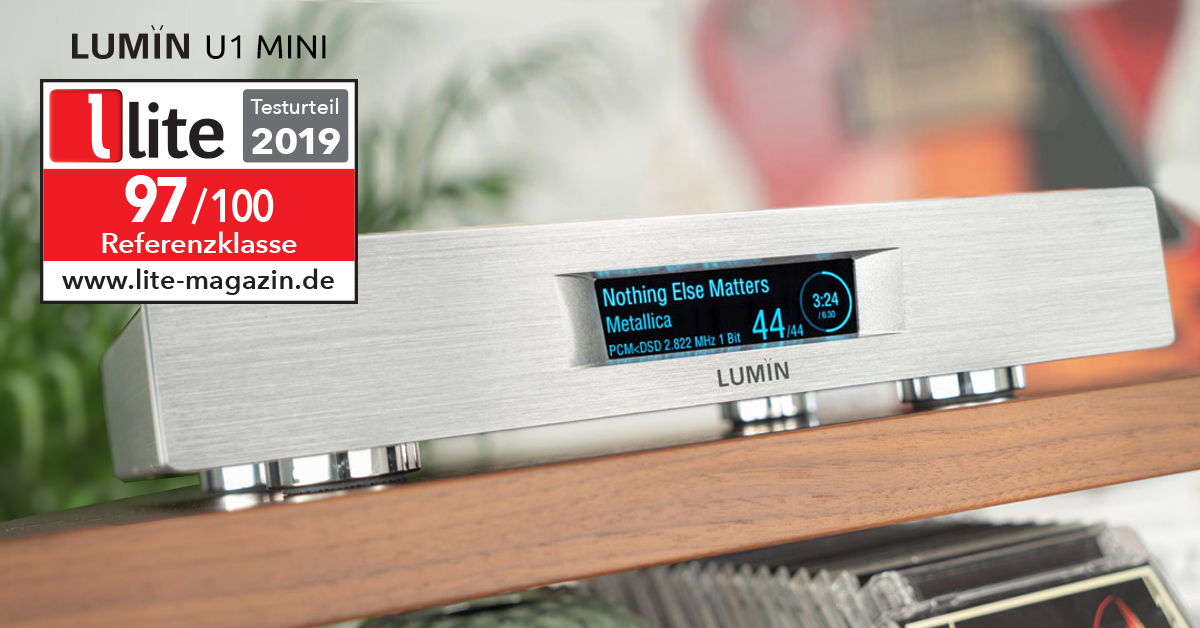 Hi-Fi Knights have published their review of LUMIN U1 MINI including some stunning photography.During the review Dawid Grzyb states:
U1 MINI sang like a fully flourished and mature product free from trade-offs associated with its price.
The quality leap from my daily driver to Lumin's petite box was severe.
For the money it doesn't get any better than this.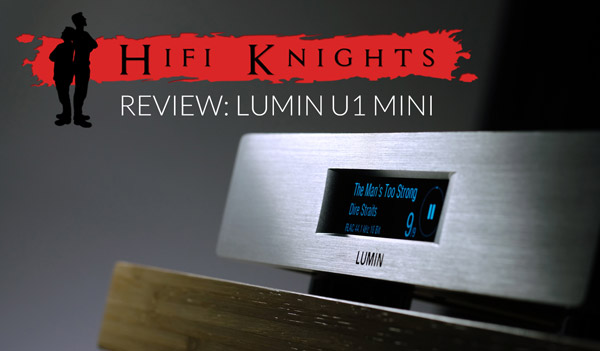 Hifitest.de have published their review of LUMIN U1 MINI.During the review they write:
What all Lumin systems have in common is their great streaming platform, which is controlled by one of the best current apps.
…simply reproduces with great neutrality what information is contained in the files.
Lumin concentrates on the essentials with the U1 Mini and gets everything right.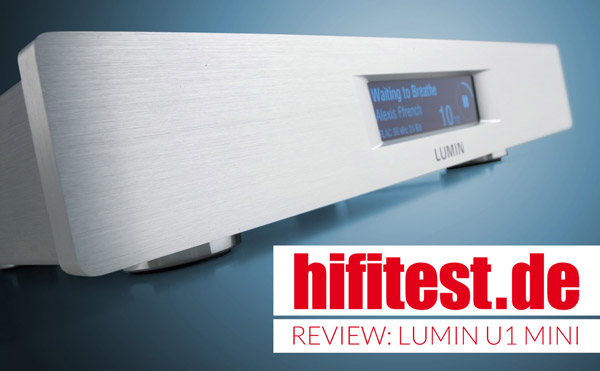 Hi-Fi Choice Poland have published their thorough 7-page review of LUMIN U1 MINI and awarded it 5 Stars.During the review Marek Dyba states:
With Lumin, music is always put first
I would describe it as a very musical, natural sounding transport, but at the same time precise, resolving, extracting a huge amount of information from each recording.
This is a great product!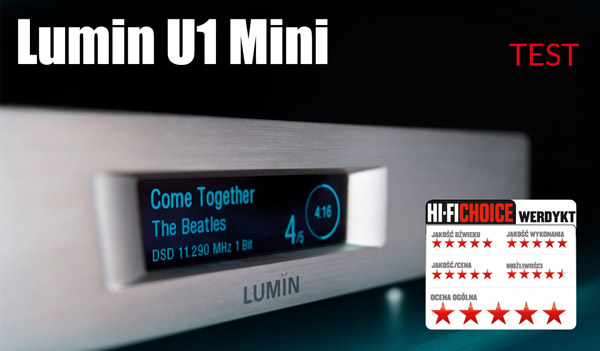 Soundrebels have published their U1 MINI review.During the review Marcin Olszewski states:
the whole remained coherent and proportional, there were absolutely no distortion
U1 Mini is an almost ideal solution for all DAC users from a very broad price spectrum
I would warmly recommend to start your search from this modest transport