Beskrivelse
Never content, we've constantly been evaluating our streamers to see if there was any possible way to beat them. It's taken years, but finally we're ready to reveal Streaming's New Cutting Edge.
Re-engineered throughout
LUMIN X1 makes improvements in every possible location:
New processor delivers native DSD512 & PCM768 playback
Dual Mono design throughout maximises channel separation
Dual ES9038Pro SABRE DACs featuring 140dB dynamic range
Femto Clock System with precision FPGA distribution
New Output Buffer design
Dual Mono dual stage linear regulator
Optical Network provides complete isolation from network digital noise
USB Digital Audio Output supports Native DSD512
Entirely new Power Supply
New solid billet CNC casing design
Separate digital & analogue circuitry
Low-noise linear regulator
New 9-pin output connector
Available as an upgrade for existing S1 / A1 / T1 customers
DSD SUPPORT:
Up to DSD512 22.6MHz, 1-bit
PCM SUPPORT:
Up to 768kHz, 16–32-bit, Stereo
ANALOG OUTPUT STAGE:
Dual ESS SABRE32 ES9038Pro DAC chips
Fully balanced layout with high-quality components
Output connectors coupled with dual LUNDAHL LL7401 output transformers
Femto Clock System with precision FPGA distribution
USAMPLING RATES & BIT DEPTHS:
DSD128 upsampling option for all files
PCM 384kHz upsampling option for all files
DIGITAL OUTPUT STAGE:
USB:

Native DSD512 support
PCM 44.1–768kHz, 16–32-bit, Stereo
BNC SPDIF:

PCM 44.1kHz–192kHz, 16–24-bit
DSD (DoP, DSD over PCM) 2.8MHz, 1-bit
OPTICAL NETWORK:
Industry-standard SFP
1000Base-T Gigabit Ethernet
Adapter may be needed for your particular switch/cables
Use simultaneously with RJ45 (e.g. connect one to router and one to LUMIN L1 or NAS)
POWER SUPPLY:
External solid billet cnc dual-toroidal
Separate digital & analogue circuitry
Low-noise linear regulator
9-pin Output Connector
PHYSICAL:
Finish:

Black anodised brushed aluminium (with matching PSU)
Raw brushed aluminium (with matching PSU)
Lumin (solid aluminium chassis):

350mm (W), 345mm (D), 60mm (H), 8kg
PSU (solid aluminium chassis):

106mm (W), 334mm (D), 60mm (H), 4kg
STREAMING PROTOCOL:
UPnP AV protocol with audio streaming extension (OpenHome)
Roon Ready
Spotify Connect
Apple AirPlay
Gapless Playback
On-Device Playlist
APP FEATURES:
Native support for TIDAL, MQA, Qobuz and TuneIn Radio.
Tidal MQA icons to identify high-res music
Qobuz high-res icons to identify high-res music
Volume control
High-resolution artwork
Artwork caching
Search
Multiple tag handling
Composer tag support
Album-grouping in playlist
Automatic internet links to artists/album/songs
Saving and restoring of playlists (including Tidal and Quobuz)
SUPPORTED AUDIO FILE FORMATS:
DSD Lossless: DSF (DSD), DIFF (DSD), DoP (DSD)
PCM Lossless: FLAC, Apple Lossless (ALAC), WAV, AIFF
Compressed (lossy) Audio: MP3, AAC (in M4A container)
MQA
INPUT:
Ethernet RJ45 network 100Base-T (1000Base-T Gigabit on X1 / U1 / D2 / M1)
USB storage, flash drive, USB hard disk (Single-partition FAT32, NTFS and EXT2/3 only)
ANALOGUE AUDIO OUTPUTS:
XLR balanced, 4Vrms, pin 2 Hot (6Vrms on X1)
RCA unbalanced, 2Vrms (3Vrms on X1)
SUPPORTED CONTROL DEVICES:
All models of Apple iPad (v2 or later). iOS 8.0 or later required. Full Retina Display support.
Android devices. Android 4.0 (Ice Cream Sandwich) or later required
OTHER:
Programme of Continuous Development – Firmware-upgradable for further features and enhancements
Editor's Choice 2020
In their 21st Anniversary issue, Hi-Fi+ magazine have presented LUMIN X1 with their Editor's Choice award.
The original review was in issue #169 which you can read below.
During the review Alan Sircom states:
To say I'm impressed by the LUMIN X1 is something of an understatement. I am blown away by its performance.
It has a sense of absolute confidence in it's own performance that is typically the domain of the best in analogue
It puts it in direct competition with products that cost several times as much and take up a lot of shelf space in the process.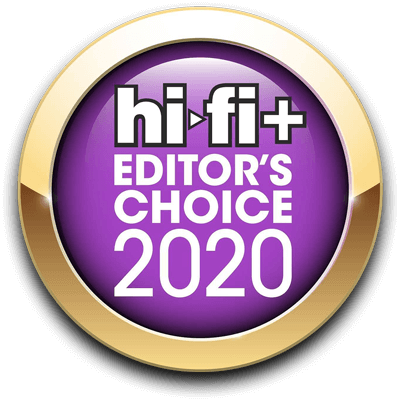 Editor's Choice 2020
The Absolute Sound have presented LUMIN X1 with their Editor's Choice 2020 award.
The original review was in issue #300 which you can read below.
In the review Steven Stone states:
Low-level detail through the Lumin X1 was also as good as I've heard from any digital source, any time, any place… I was impressed by the system's ability to retain not only proper pitch but also the texture of the bass.
Not only is the X1 a first-class component, but the support behind the Lumin is also as stellar as the unit itself.
Outstanding… gets everything right and does it all with style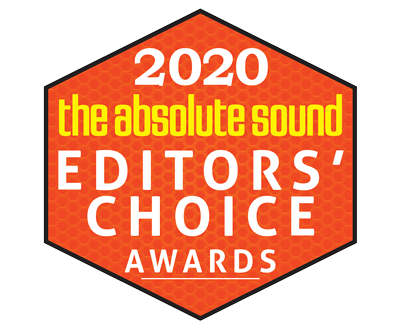 Home Theater Review have published their review of LUMIN X1 awarding it ⭐⭐⭐⭐⭐ for Performance. They also included listening notes with the LUMIN Amp.The original review was in issue #300 which you can read below.During the review Bob Barrett states:
the sound was analogue in nature but with all of the unrestricted dynamics of a first-class modern-day digital recording.
The recording didn't sound analytical–just very, very musical.
With the Lumin Amp now added to the mix… Music just sounded better overall. Every genre just sounded more organic, more musical.
Lumin X1 is not only terrific sounding but terrific value too. Purist audiophiles looking for a true flagship streamer/renderer/DAC and with the wherewithal to spend $14K on such a product should make sure to include an audition of the Lumin X1 in their search before purchasing anything else. It's that good.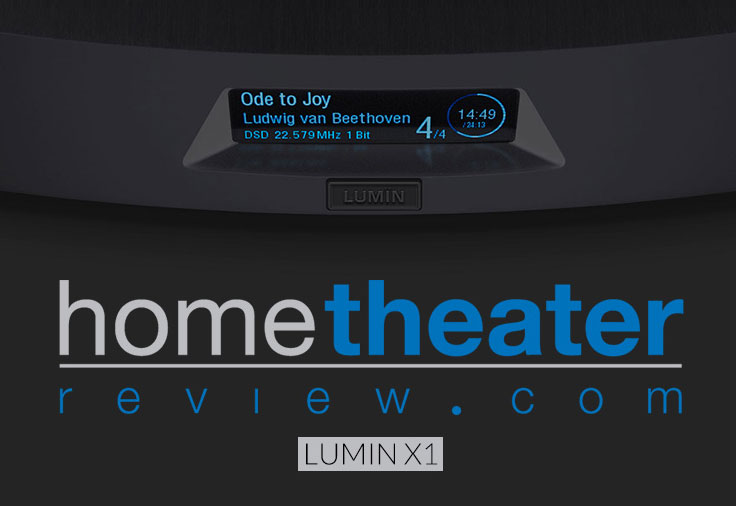 AUDIOPHILE STYLE
December 2019
Audiophile Style award LUMIN X1 5 stars and call it a «true accomplishment» during their glowing review.Chris Connaker goes on to state:
The Lumin X1 is by far the best Lumin product ever developed and competes with the best full-featured streaming DACs anywhere near its price.
The Lumin team has taken the best of its previous products and improved upon these aspects to deliver a sound rooted in analog playback but with all the incredible detail of digital.
Listening to Vaughan's vocals through the Lumin X1 has been nothing short of magical.
It's fair to say Lumin as a company is now at another level with its flagship X1 and AMP.
The Lumin team managed to keep the best parts of the Network Player's analog signature, but made the X1 more transparent.
It has air, detail, liquidity, slam, and the appropriate amount of analog vibe that makes the Lumin X1 something to behold. The X1 is a true accomplishment for the Lumin team and a must-hear for eager audiophiles worldwide.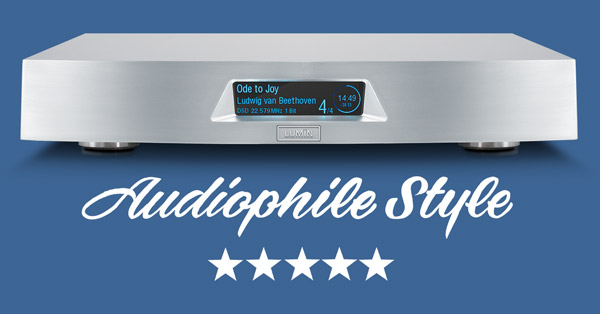 HIGH FIDELITY MAGAZINE
July 2019
Red Fingerprint Award for LUMIN X1.During the review Wojciech Pacuła states:
It's one of the best made file players I've ever seen.
X1 is a real «music machine», so to speak.
This is the sound that many vinyl lovers dream about. A digital device that plays better than a turntable? Please listen to yourself and then think how much more convenient LUMIN is to use.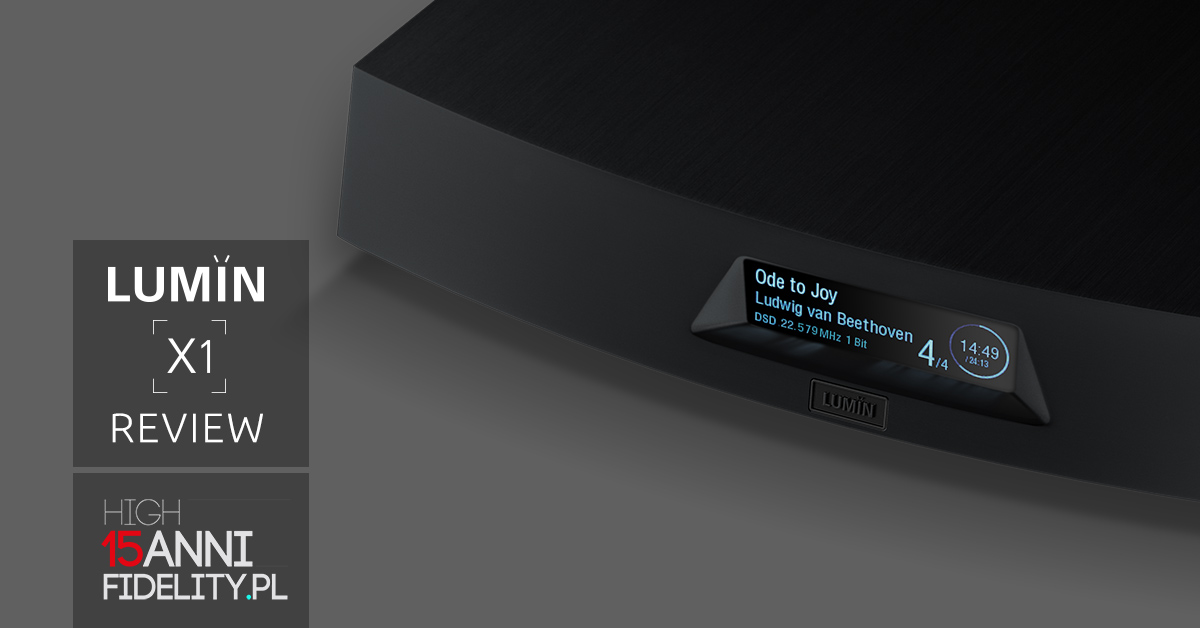 HAUTE-FIDÉLITÉ MAGAZINE
June 2019
'Reference' award for LUMIN X1Haute-Fidélité Magazine have published their review of LUMIN X1 and presented it with their 'Reference' award in issue #239.During the review Bruno Castelluzzo states:
The Lumin app has been presented many times before but it remains one of the best apps to stream music from a tablet or smartphone
The streaming offered by the X1 is one of the most beautiful successes at the moment.
Its musicality – made of fluidity, finesse of the treble, and elegance of timbre – will seduce those who are more attached to the music than superfluous effects.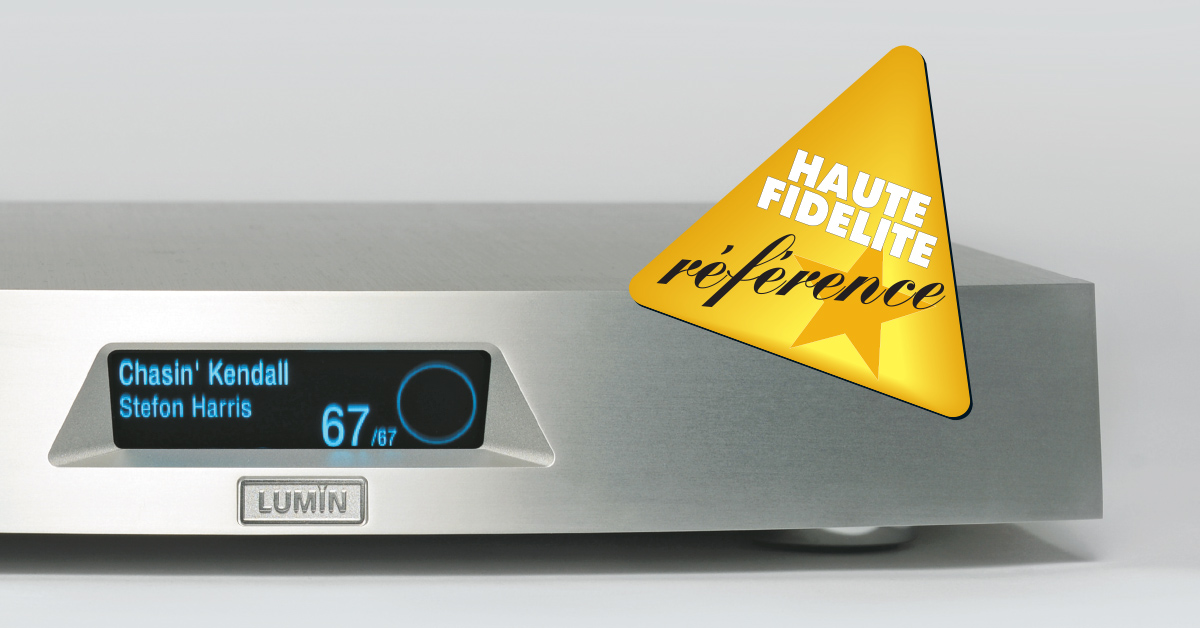 After listening for almost 5 weeks, Stereo Magazine have published their English Language review of LUMIN X1 in a free digital edition, awarding it a maximum 100% score for sound quality.In the review Carsten Barnbeck states:
In this class we naturally expect perfection in haptic as well as in terms of its technical solutions – and LUMIN delivers!
The workmanship of the X1 is simply breathtaking
The X1 has beguiling dynamics, plays thrillingly musically and is a master of subtlety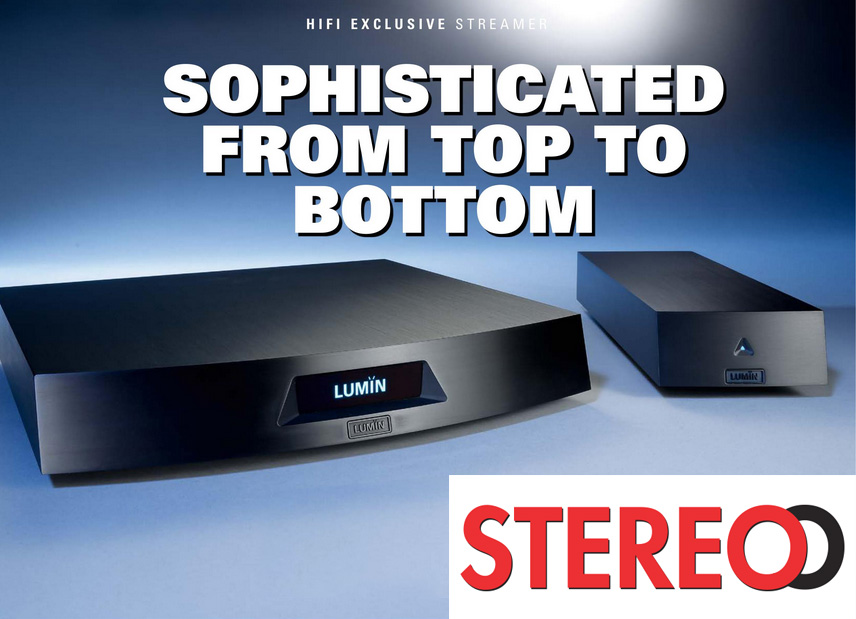 FEDELTÀ DEL SUONO
February 2019
Italian magazine Fedeltà del Suono have published their very thorough LUMIN X1 review and presented it with their highest honour – The 'Top Quality' award.During the review, Alberto Guerrini states:
It expresses a remarkable natural timbre and the rigorous communication of a true champion, flanked by micro dynamics, micro contrasts and very high definition, that bring it to the top of the category without a shadow of doubt.
One of the best performances ever in this field.
Truly a product difficult to beat from every point of view.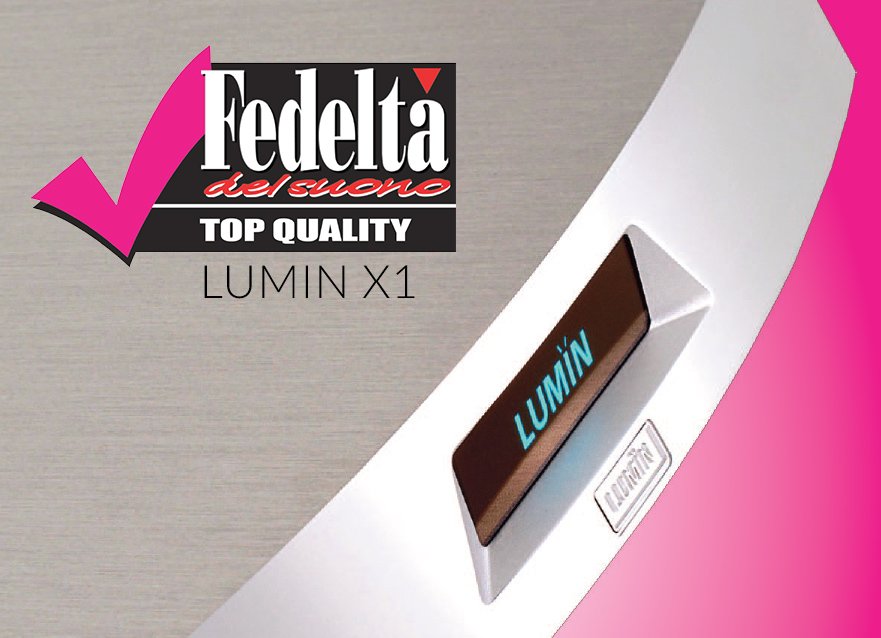 Taiwanese website U-Audio have published their thorough LUMIN X1 Review including some thoughts on Fibre vs Copper networking.During the review they state:
Basically, I believe fibre and RJ45 have different personalities and each has its pros. Objectively, I believe fibre offers more detail, layers and is full of potential.
It is not common for a source to be like X1 and simultaneously offer rich functionality, convenient operation, elegant appearance, small physical size, Hi-Fi grade design and manufacturing, and high level of audio reproduction
X1 is not complex to set up yet it has the most complete specification and supported services available. X1 will not disappoint.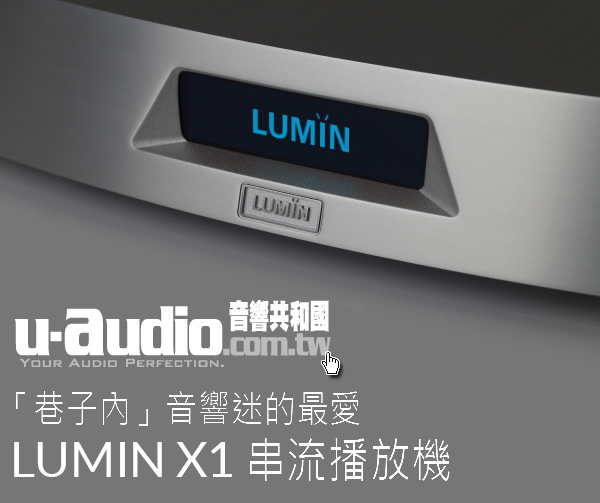 STEREO SOUND
January 2019
Japanese magazine Stereo Sound have published their LUMIN X1 review.During the review they state:
A powerful sound full of enthusiasm and far exceeding expectations came out, knocking me off my chair.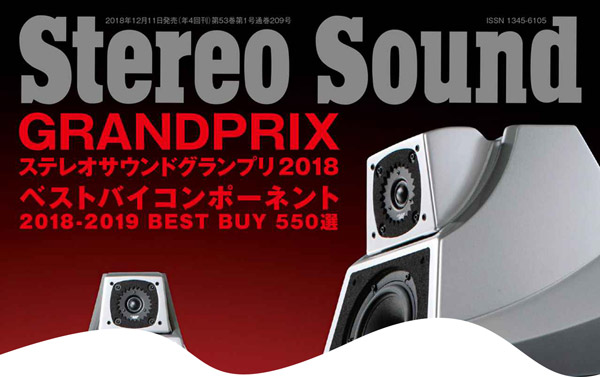 Japanese magazine HiVi have published their in-depth LUMIN X1 review.During the review they state:
That exactly did it. LUMIN gave birth to the strongest network player in the world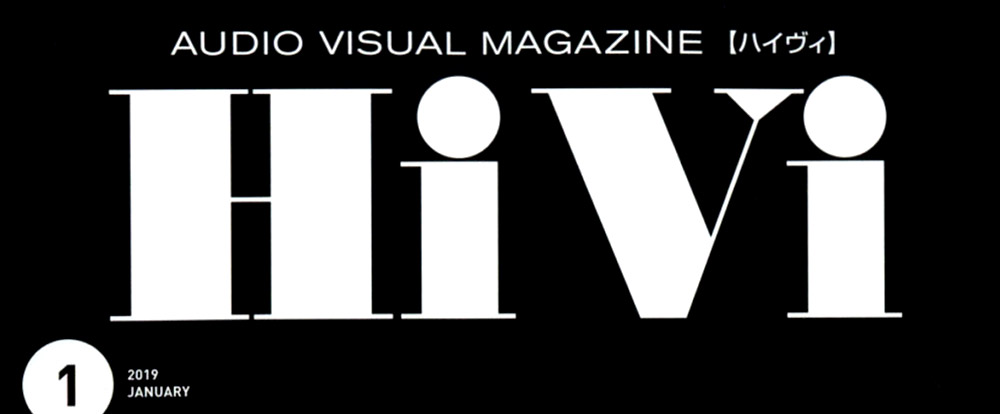 LUMIN X1 features on the cover of Japanese magazine Net Audio vol.32.During the review they state:
Sound Quality. Functionality. Usability… …It is not an exaggeration to say X1 is «the ideal form of a network player» at the present moment.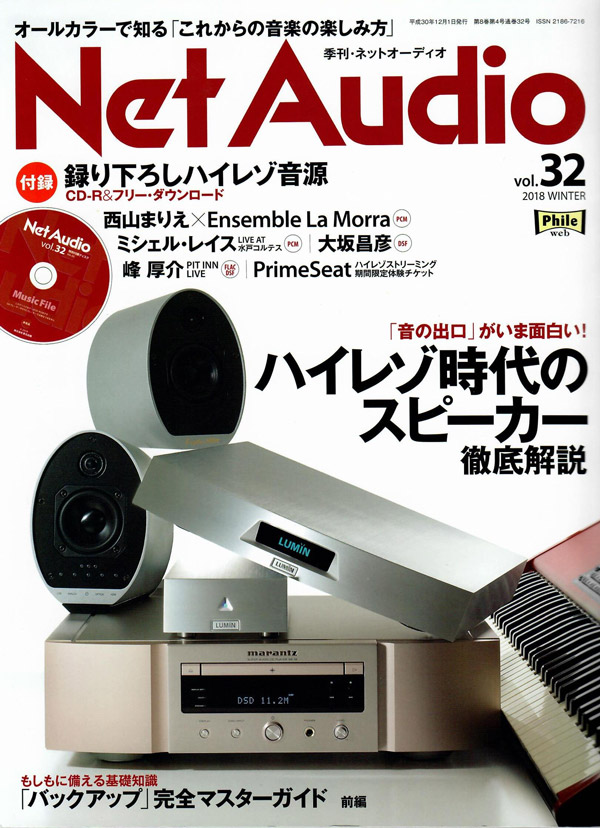 AUDIOTECHNIQUE
November 2018
LUMIN X1 features in AudioTechnique issue #446During the review they state:
I think LUMIN is the best in the market
in terms of the sound quality, X1 is a huge jump from the ex-flagship S1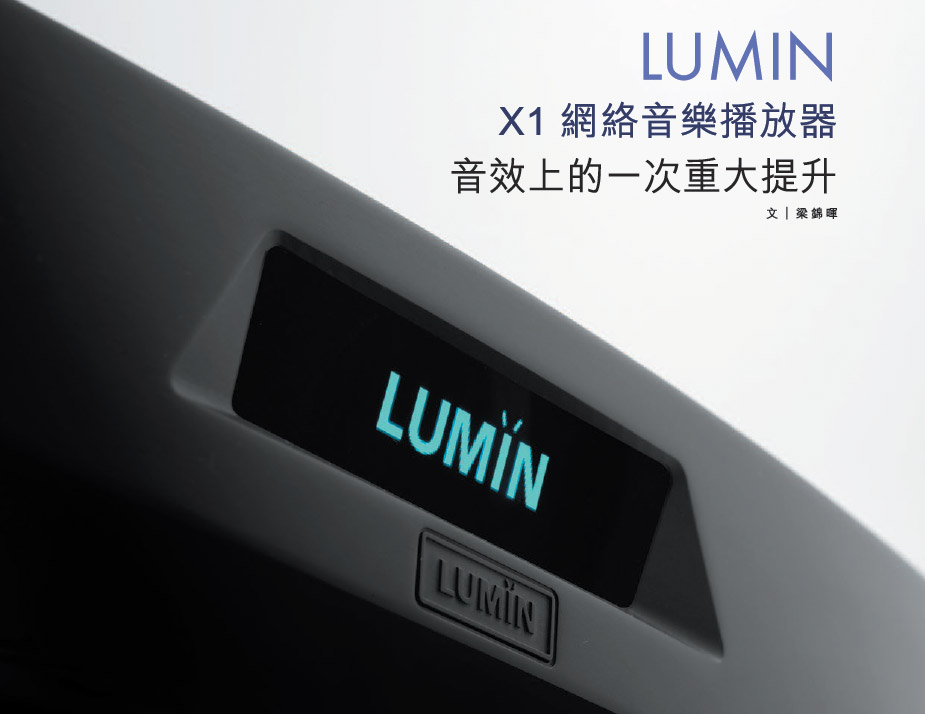 Audiophile Magazine have published their thorough 5-page review of LUMIN X1.During the review Joël Chevassus states:
It is without doubt the streamer that in my system has developed the most structured sound stage.
The strength of the LUMIN X1 remains this stereophonic image of a hallucinatory precision.
Lumin X1 is a very exceptional digital transport, very precise…the X1 brings you extra resolution
There is this sense of urgency and visceral energy that remains a very addictive character trait of the Lumin X1, and that difference in terms of performance, between the previous S1 and the new flagship, justifies in itself the move upmarket.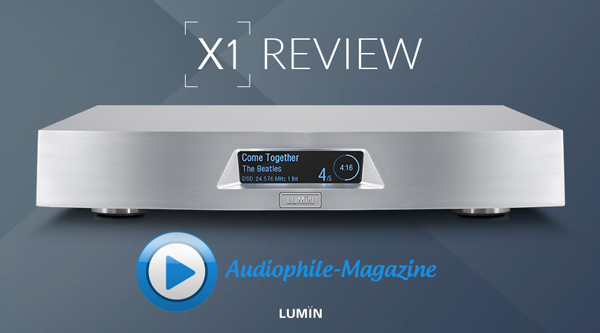 MONO & STEREO have published their full review of LUMIN X1 and presented it with their 2018 Highly Recommend Product award!During the review Matej Isak compares LUMIN X1 to a similarly priced computer+DAC setup and states:
Is it better, than a computer?». Oh yes! It is and by no small margin
…the difference is not even funny
fast, resolving and with a transparent dynamic quality, providing the music in an unaltered and forthright way, but nevertheless with the necessary touch of the authentic, real-world warmness
This is another 2018's contender that deserves the highlight. LUMIN X1 has warmed up my inner clocking and lit up the music related inner sensors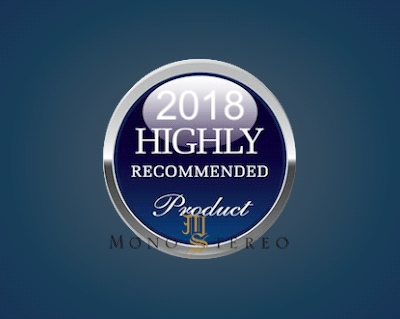 6moons.com have published their typically thorough 4-page review of LUMIN X1. This time with Srajan Ebaen investigating.In the review Srajan Ebaen states:
sophisticated sonic elegance
this is perfectionist hifi done right
now I've seen the light; or heard it as it were. I feel like a proper lumineer – a Luminear…